You should receive your prints in about 2 weeks or less from the date you placed your order. PLEASE contact me at greatscottproduction@yahoo.com if you have not received your prints within that time.

Also if your interested in larger sizes than 8 x 10 These can also be printed. For sizes & pricing please email at greatscottproduction@yahoo.com
If you have interest in 17x22 Custom Posters, Gallery Wrap Canvas. Or "BIG KIDS" Custom Vinyl Wall Cut Outs. PLEASE Contact me via email as these options are NOT availible directly from my website using the drop down menu
Mike Carter
Great Scott Productions


"BIG KIDS"

Large Vinyl Repositional Wall Decals
It's a FATHEAD of Your KID!!!
Availible in sizes ranging from 24" to 84" as wide as 54"
For Order Info & Pricing
Please email at greatscottproduction@yahoo.com



Please email at greatscottproduction@yahoo.com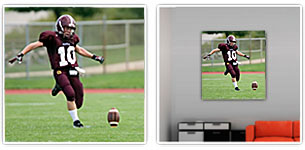 "Custom Gallery Wrap Canvas" are the are also
Availible in sizes 11 x 14 & 12 x16